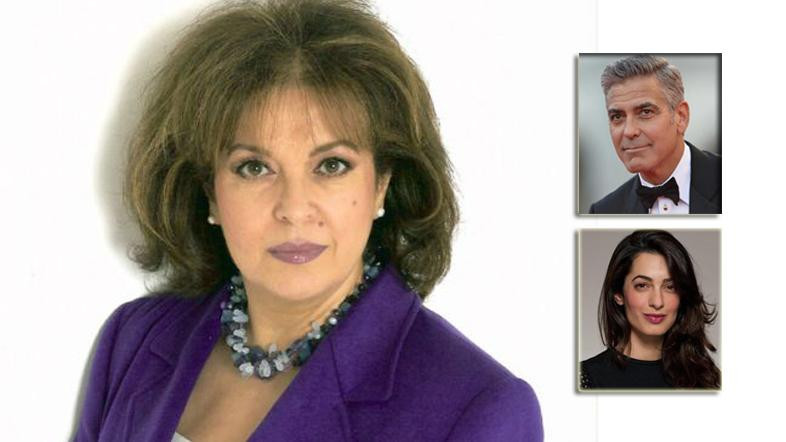 While many might have been surprised with the wedding news of Hollywood's renowned bachelor George Clooney to the Lebanese-British shrewd and elegant barrister Amal Alamuddin, the same cannot be said about Clooney's future mother-in-law Bariaa Alamuddin.
Confident, warm, and very well connected, that's how those who know Bariaa Miknas well, describe her. Her journey was no walk in the park, growing up in Tripoli, before moving to Beirut to pursue her journalism career with Dar Sayyad in the sixties then with the Lebanese national TV. She later married Ramzi Alamuddin, and the couple escaped war-ravaged Lebanon to London, where Bariaa joined Al-Hayat newspaper and raised her two daughters Amal and Tala.
Bariaa is, well, Akram's sister. That's the connection, then.
Jihad Khazen, a veteran Arab columnist and former editor in chief of Al-Hayat, met Bariaa more than three decades ago. Khazen describes her to Al-Arabiya News as a "Roman goddess", speaking of unmatched beauty during her youth that dazzled many in the Middle East, and an intellect that made her journalism career. Since moving to Al-Hayat in the nineties, Alamuddin has interviewed global figures such as former U.S. President Bill Clinton, former British Prime Minister Margaret Thatcher, former Cuban President Fidel Castro, and former Pakistani Prime Minister Benazir Bhutto.
"She has always been concise and accurate" says Khazen, crediting Alamuddin with a professional and wide reaching reputation as a journalist, and a good working relationship in Al-Hayat.
Clooney gets gold
Bariaa Alamuddin also stands out as a networking powerhouse and tireless socialite. Abdul Wahab Badrakhan, a former deputy editor in chief for Al-Hayat and who worked with Bariaa until 2006, describes her to Al Arabiya News as a juggernaut networker, with direct access to leaders from the Arab world to Pakistan to Brussels. Badrakhan stresses mostly her connections to royal families in the Gulf and having built personal relations with many Princesses and officials. Helping her in this networking effort, according to many of her colleagues, is her brother Akram Miknas, a leading businessman in Bahrain and the founder of Promoseven Holdings. People who attend the exquisite parties at the family's home in London speak of Bariaa as a very generous and warm host.
Another colleague Eyad Abu Shakra, a managing editor of Al-Sharq Awsat, describes Bariaa Alamuddin as a "feisty reporter". In fact, this feistiness came across in some of Bariaa's TV appearances during the Israeli 2006 war on Lebanon. She is an Arab at heart and has taken many positions against the Israeli occupation. "Her politics are fitting with the Arab street" says Badrakhan, adding that "she has no prejudice against anyone and supports Arab rights." Alamuddin has come under attack from right wing writers for interviewing Suha Arafat, the wife of former Palestinian leader Yasser Arafat.
None of Bariaa's colleagues seem to be puzzled by Clooney's engagement to her daughter Amal. The mother's credentials as a solid, and widely connected journalist have earned her the respect of many, some of whom point out that it's Clooney who got the better half and not the other way around.
By Joyce Karam Special to Al Arabiya NewsTuesday, 29 April 2014